Best National Parks for Kids: 8 Can't-Miss Parks Around the United States
After visiting Grand Canyon National Park with her family for the ninth time in 2016, Angela Evans decided to make it her mission to explore all 59 national parks in the United States. This impressive undertaking has led Angela, her husband, Marq, and their 7-year-old son, Jude, through 27 parks so far, and she's picked up some tips and tricks along the way. Here, she shares the best national parks for kids and some advice for making the most of a family trip through America's beautiful landscape.
National Parks of the United States
THROUGH THE EYES OF...
ANGELA'S NATIONAL PARK HIGHLIGHTS...
We love visiting our national parks because of the diversity and beauty of the landscapes and wildlife. Each of our park experiences has been unique and fulfilling in a way that keeps us coming back for more.
We believe it is important to share how precious these spaces are with the future generation, so they will appreciate and sustain the legacy of our public lands.
1. OLYMPIC NATIONAL PARK
"Olympic National Park has a little bit of everything – the ocean, mountains, and the incredibly peaceful and majestic Hoh rainforest. This park is one of those places we can aimlessly wander and always come across something new."
2. BADLANDS NATIONAL PARK
"The Badlands gave us an awesome landscape to explore, and we were very excited about our wildlife sightings, especially the bison and bighorn sheep. Our favorite hike was the Notch Trail, which starts with a steep log ladder that gets you up the hill and leads you into an otherworldly terrain."
Talk to the rangers. We usually go with a pretty loose plan and ask a ranger for their recommendations. They can point you in the direction of something really cool you may not necessarily have read about online.
3. JOSHUA TREE NATIONAL PARK
"We have visited Joshua Tree National Park the most because it's closest in proximity, and it has helped us find and appreciate the beauty in the desert. Jude loves to climb around on the boulders, pretending to be a bighorn sheep. We love that he can really get out and explore in the wide, open spaces! His favorite memories are from the first time we went and saw a coyote, and this most recent trip, when we saw a tarantula."
4. GREAT SAND DUNES NATIONAL PARK
"Great Sand Dunes National Park was hands-down the most memorable experience from our Colorado road trip this past summer. We were halfway through our hike up the dunes when a storm started heading in. Determined to make it to the top, we pushed through the wind and sand that pelted our faces. We were so proud of Jude, and you could see the pride on his tired little face once we made it. After a rest, we ran down the dunes and Marq and I felt like little kids again. We highly recommend getting a sled and some wax, so you can ride down the sand."
5. DEATH VALLEY NATIONAL PARK
"There is so much diversity to this park. In the same day, we were standing below sea level at Badwater Basin (the lowest point in North America) and went on to explore the Charcoal Kilns in the snow."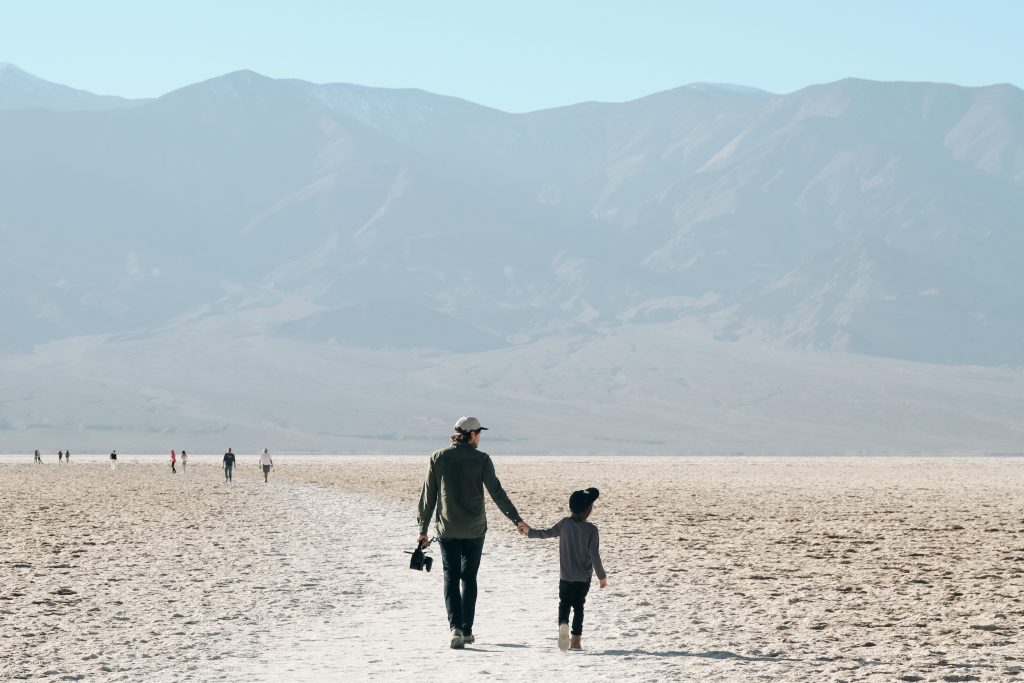 6. GLACIER NATIONAL PARK
"Glacier National Park is beautiful and pristine, and we can't wait to go back. We loved staying at Lake McDonald for the activities and view, and we took an extremely memorable day trip to Lake Kintla. First, we stopped in Polebridge for some delicious bear claw pastries and made our way out to the lake on a rough dirt road. It took us about an hour, but the payoff was magnificent! Only a few other families were there. It was easy for us to find a quiet spot to skip rocks and take in the beautiful serenity, as well as socialize with like-minded people that made the trek. Jude even made a few friends, who invited him to construct a 'grizzly bear trap.' He was beyond thrilled!"
Have the kids participate in the Junior Ranger Program. Just stop by one of the visitor centers to pick up the booklet. It's educational and a fun activity to keep the kids engaged while you're at the park. Once they complete it, they can bring it back to the visitor center for a special badge.
7. PETRIFIED FOREST NATIONAL PARK
"Blue Mesa is one of our favorite trails – we had never seen anything like it before! While we were there, we chatted with a ranger who told us about the less-traveled Jasper Forest trail. It was such a solid tip because we were totally alone and wandering around various types of petrified wood from the Triassic Period. Jude was fascinated with seeing things a prehistoric creature might have rubbed up against."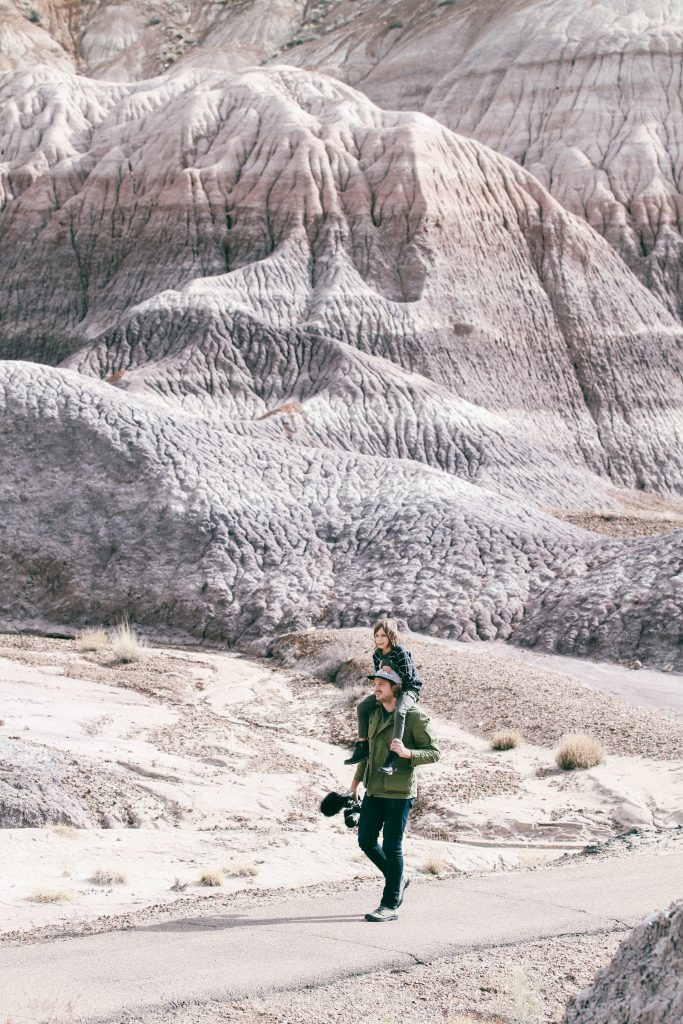 Drive around the park right before dusk. Not only is the light beautiful, but that's also when we get lucky with spotting wildlife!
8. BRYCE CANYON NATIONAL PARK
"The landscape of this park is breathtaking. We learned about the formations and became obsessed with Hoodoos. (It's just so fun to say!) When Jude found out that his favorite ride at Disneyland,Thunder Mountain, was patterned after this park, it put a real pep in his step and brought him a whole new appreciation for our Navajo Loop hike."